Soba, the Japanese equivalent of 'buckwheat,' has a long-standing tradition in Nagano. Rice farming has always proven hard in this mountainous region, and easy-to-grow buckwheat represented an invaluable source of nutrition in the past.
The master was born and raised in one of the villages perched in the foothills of the Yatsugatake Mountains at 1,000m. Until a few years ago, rice cultivation proved very difficult at such high elevations, and many farmers from the area used to grow soba as a form of insurance in case they had a bad rice harvest.
Familiar with this ingredient since he was a child, when he grew up to inherit his father's farm and soba restaurant, the master committed to producing the best soba he could.
"A lot of work goes into a simple plate of soba noodles.
There are so many elements that influence the quality of soba, the soil and weather, how it is dried, how it is milled, and how it is cooked. It doesn't matter that you grew the soba with the utmost care if the milling or the cooking aren't done with care.
I wanted to do soba justice, so I decided to take the entire process into my own hands."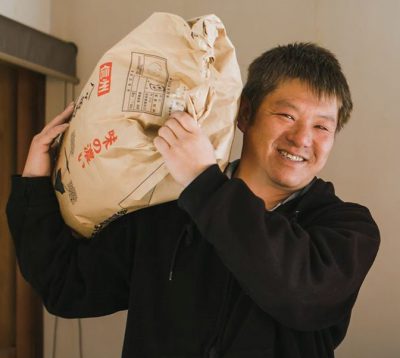 Yoshitaka Morozumi
Farmer, soba master and owner of Minshuku Asahigaoka